PTE Academic Test Centers issue a score report for every candidate who finishes the test successfully. Usually, this report card will be ready within 2 to 72 hours after the exam is finished.
1. Score report information
The PTE score report provides an overall score which is then broken down into two main categories: communicative skills and enabling skills. Your communicative skills consist of four contributors namely Listening, Reading, Speaking and Writing. Your enabling skills composed of Grammar, Oral fluency, Pronunciation, Spelling, Vocabulary and Written Discourse. Watch our youtube video on how to calculate your PTE overall score.
2. How to calculate the overall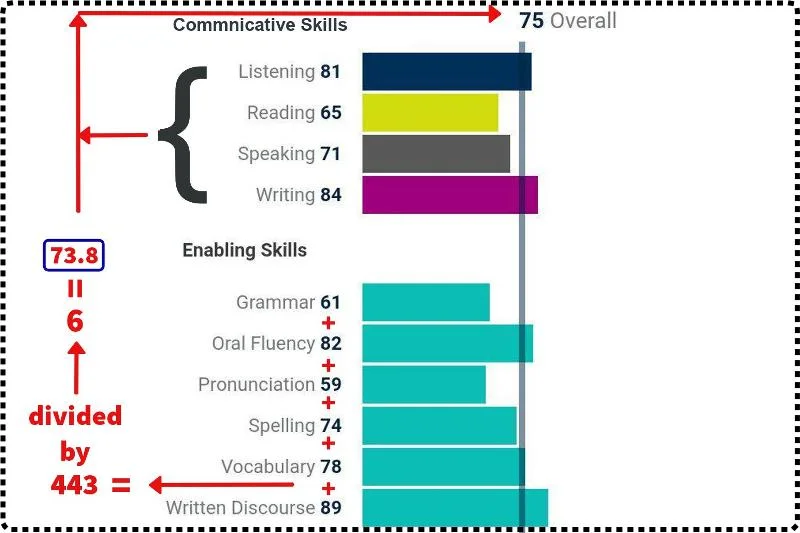 In order to get 20 points for immigration to Australia, you need to have an average score of 79 with no skills less than 79. Let's see how a computer calculates the overall score of your PTE test score.
First, they add up all the scores of enabling skills. Then, the sum is divided by 6 which is the number of added items. This number which is the average sum of the enabling skills becomes the fifth contributing factor along with the other four communicative skills in calculating the overall of the PTE score. In other words, your enabling skills can indirectly help you boost your average. For instance, I had a student who had no skills less than 79, but his average was 78. This meant that he could only claim 10 points instead of 20 because his average was not 79. Therefore, enabling skills can be decisive if your communicative skills scores are on the borderline.
The overall scores are usually rounded up, and once the average is above 88, it will be rounded up to 90 and the average of the enabling skills is automatically disregarded as you can see here in my PTE report card.
3. Sample calculations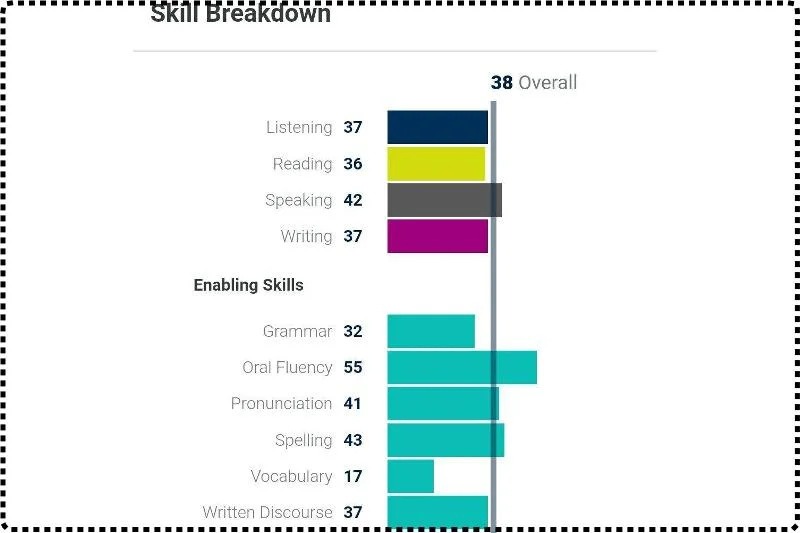 So let's put this hypothesis to test by calculating the average of a few score reports. So first up is this one: So I add up the enabling skills and then divide it by 6 and the result is 37.5. This will be the fifth contributor for calculating the overall score and the sum of the communicative skills plus the enabling skills average will be 189.5. This sum divided by 5 will be 37.9 which will be rounded up to 38.
4. Baffling ones
Now some baffling cases that really don't add up and I have found no explanations for them.
So here as you can see even without using a calculator you can see that the average of the communicative skills is 74ish and if you add up the 6 enabling skills, you would have 453 and divide it by six you would get 75.5. Now if you add this figure to the above sum and divide it by 5, you will get an overage of 74.5. But as you can see here the overall score by the computer is 72. Hello! You make me think twice about asking for a rescore of my PTE test result Mr computer.
Need more information?
For learning the tricks of how to ace the PTE academic test, and for doing a free scored PTE mock test and practicing real PTE materials on our PTE practice platform, visit our website at www.thepte.com, where you can also book a free online PTE coaching with one of our Melbourne-based expert PTE trainers via the zoom app.