thePTE.com offers the best online PTE training experience along with mock tests and all templates, even one for your SWT, so that you will get the best result in the shortest time. All classes are taught by Hugh, our PTE expert trainer from Melbourne via zoom.
Reasons why we are the best online PTE training center in the world:
Our students say it
Before joining thePTE.com online training, Claudio was trained by 2 other online PTE centers in Australia. After more than a dozen attempts, he still didn't get his desired score. This is one of his attempts before joining my classes next to his result after coaching (see photo below).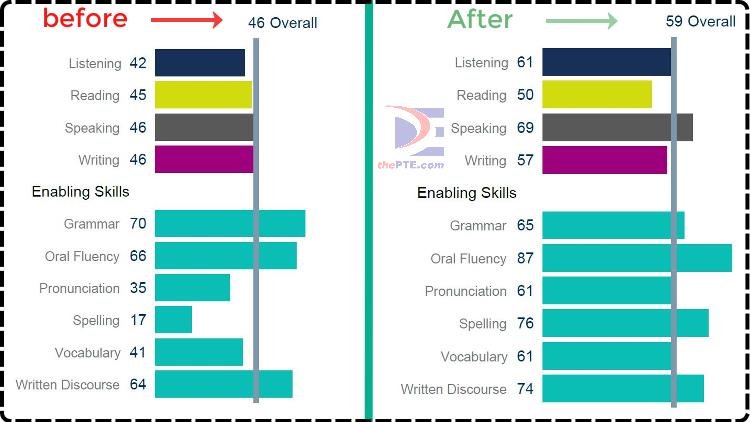 I usually ask my students, especially those who have been trained somewhere else, what strategy they use for a particular test item and I noticed that most of the time either there is no strategy, or if there is, it is not an effective one. For instances, look at the score for his Speaking after using my strategies.
And this is his kind review on our website.
10 predictive mock tests
Our mock tests mirror exactly a real PTE test both in terms of content and in scoring. After our students do all our PTE mock tests, they know how the test is done and, of course, have practiced their templates and strategies enough times to get the score they want the first time they sit the test.
Here is a mock test score before the student sat the test, next to the same student's real PTE test result. He got his desired score in his first attempt.
Expert PTE trainers
Hugh (Hamid) Rostami has got an average score of 90 in his PTE test. He is an experienced teacher who takes care of you wherever you are. If you want to know how he coaches and know him better, just watch one of his tutorial videos on our YouTube channel here.
Need a free PTE mock test?
In order to learn the tricks of how to ace the PTE academic test, do a free scored PTE mock test and practice real PTE materials on our PTE practice platform, visit our website at www.thepte.com, where you can also book for a free online PTE coaching with one of our Melbourne-based expert PTE trainers via the zoom app.