At thePTE.com, with over 15,000 free PTE mock test registration, we are one of the fast growing PTE coaching centers in Australia. We have students from all over the world and you can be one of them. Some of the reasons why you should join our online classes are:
Qualified PTE trainers with 90 average score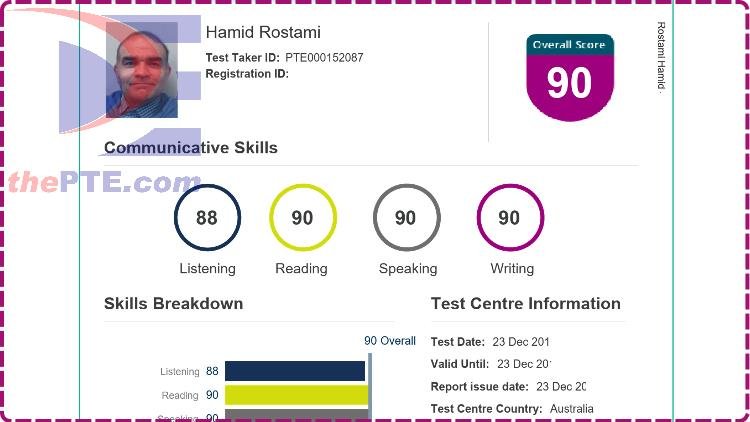 Our resident expert PTE trainer Hugh (Hamid) has been teaching IELTS and PTE for the past 25 years. He handles all our online classes at the moment. All our classes are one-on-one with a dedicated WhatsApp line to follow up all our students queries and practice feedback. Your messages and questions will be attended within an hour or less.
The best set of PTE mock tests
Our PTE mock tests are very close to the real PTE test in every aspect. If it is for the first time that you are going to sit the PTE test, with our PTE mock tests you would feel at home when you do the real PTE test. All our students speak of the incredible similarity between our tests and the real PTE test. The only difference, of course, is that our mock tests will produce a score card right after you finish the last question, while in the real PTE test, PTE candidates will get their score card 2 to 150 hours later.
Flexible timetable
If someone is new to the PTE test, it would take Hugh only 4 to 6 sessions to teach her/him all templates and hacks of the PTE test. The test depends on the candidate to master the templates and send Hugh his sample practices to get feedback. Since we are talking about online coaching, our timetable is quite flexible. Depending on your time zone, we will find a time that suits you.
Need a free PTE mock test?
In order to learn the templates and hacks of how to ace the PTE academic test, do a free scored PTE mock test on my PTE practice platform, or visit my website at www.thepte.com, where you can check my online PTE coaching plans to get trained from the comfort of your home by Hugh.