In the speaking section, the PTE test heavily relies on using a software called "voice to text" . This is also known as voice recognition or speech to text app. This is the same software or app that has been used in many voice command devices such as Siri, google, Bixbe and the list goes on. The main point is that all these devices work on the same basis and that is getting the command through a microphone and then processing it on the fly so that it can be closely matched with a word in the target language which in our case is English.
Now, the Pearson Test of English uses one speech to text software like the one we have used in our free PTE mock test (click here for doing our free PTE mock test). This voice to text software is used throughout your PTE Speaking section. It transcribes everything you say and then matches it with the answer saved on the data base to give you a score for that item.
So imagine you have this sentence as one of your repeat sentence questions in your speaking test and after you repeat it back, the software transcribes your sentence as you can see here.
If you need more help, check these papers out.
So if we look at this sentence, there are some words that would only and I stress on the word only give points to your pronunciation. And those words are NEED, THESE and OUT.
So in every repeat sentence item, there are two types of words; content markers and pronunciation markers. Remember there is no negative marking here. So try to repeat as many words as you can. In our online classes, we teach our students a method that helps them repeat all the words in a typical repeat sentence (Click here to check the timings).
Of course, you would try to repeat as many words as you can, but sometimes you miss a word or two here and there and that would explain why some candidates get 90 for their pronunciation skill and 78 for their speaking skill (as you can see here),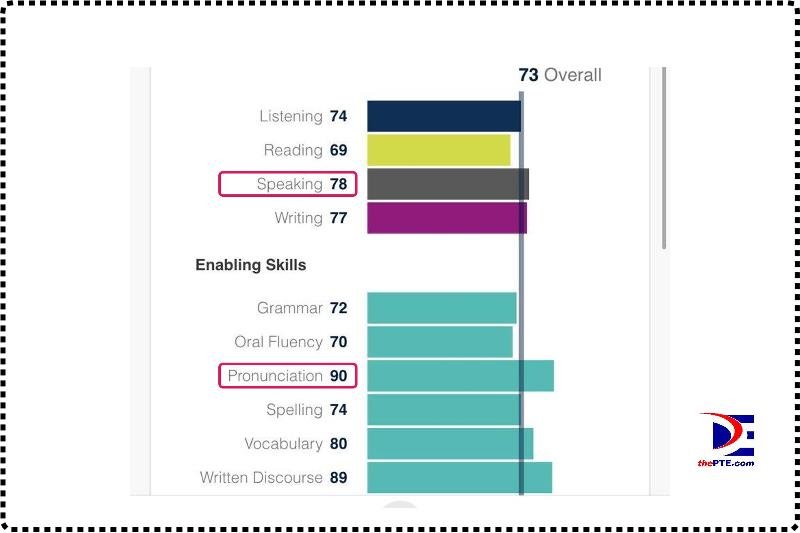 while others get 70 or below for their pronunciation skill and 90 for their speaking skill (as you can see in these PTE score reports). But, generally speaking, there is a positive correlation between the scores of pronunciation and the speaking skills, but not necessarily a direct one.
Need more information?
In order to learn the tricks of how to ace the PTE academic test, do a free scored PTE mock test and practice real PTE materials on our PTE practice platform, visit our website at www.thepte.com, where you can also book a free online PTE coaching with one of our Melbourne-based expert PTE trainers via the zoom app.